Guarantee on coaching, consulting and presentations
FREQUENT QUESTIONS
Pricing for services
100% Guarantee
Consulting process
Testimonials
Free consultation
Services inquiry form
Speech booking form
SERVICES
Coaching programs
Consulting services
Training services
Keynotes
Humor and comedy
ABOUT US
About Pavla
Contact Us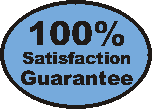 A "100% satisfaction or your money back" risk-free guarantee applies to our coaching, consulting, or presentation fees. Expenses such as airfare or hotel expenses are non-refundable.
Coaching and consulting guarantee: You have 30 days to decide if the coaching or consulting will produce the kinds of results you are looking for. If you are not 100% convinced that the services are working as you wish, you will get a 100% refund of all fees paid to us.
Guarantee on presentations: If you are not 100% satisfied with Pavla's presentation to your group, let us know within seven days after the presentation and we will cheerfully refund any fees you have paid to her.
Will you get what you're looking for? See what past clients have said!

Audiences Laugh:
"I was very impressed and entertained. You have the "right stuff" for standup...an easy style, good material, good control of the room, a great delivery, and most important, you're a funny lady. Your idea to blend your standup and coaching skills is a good one. It's comedy with a message and a reward."
Mike Hurst, MD Hurst & Company Ltd.

"You are a first class comedienne and entertainer! Standup comedy is perhaps one of the most difficult forms of entertainment. The performer has to establish an immediate rapport with the audience and immediately begin to create a little comic 'universe', where the audience is not just entertained but also participates in the proceedings. You are outstanding at this!"
Maestro Laszlo Gati, International Orchestra Conductor, President and Executive Director, Dollar Concerts of the Pacific