Topics for keynotes, training seminars and workshops
PRESENTATIONS
Motivational Keynotes
Humor Presentations
Coaching Skills
Management Skills
Team Building
Conflict Resolution
Change Management
Customer Loyalty
FREQUENT QUESTIONS
Presentation pricing
100% Guarantee
Testimonials
Presentation booking
ABOUT US
About Pavla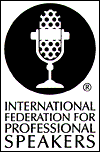 Motivational keynotes and humor presentations for conventions and corporate special events. Leadership, management and team building training programs.
The programs listed below can be customized as a keynote program, or as a half-day, one-day or two-day onsite training program.
Motivational keynote speaker and humorist
Leading Beyond Barriers - A unique real-life motivational and entertaining keynote that changes perspectives and improves leadership in good, bad or uncertain times. If you want the people in your organization to be more entrepreneurial and self-motivated, to get creative at overcoming obstacles, and to recognize opportunities where others see barriers, this presentation will inspire and motivate your group - now! This presentation is perfect as an opening and closing conference keynote.
Humor presentations - Clean corporate comedy and humor presentations, customized for your group. Whether you are looking just for laughs, or for laughs with a message, you will find it with this lawyer-turned-comedienne and corporate coach-consultant! Corporate comedy focuses on entertainment value, humor presentations deliver laughs along with key insights about change, leadership, and communication.
Leadership and management skills training
Coaching Skills for Leaders, Managers and Supervisors - Coaching is definitely the new "buzzword" on the management block. This coaching skills training program helps your executives, managers and supervisors understand what coaching is and is not, and how to use coaching skills for increased motivation and effective improvement in employee and team performance. This program is perfect for new leaders, and for seasoned managers who want to increase their effectiveness!
How to Manage and Lead People - If you feel like you are herding cats rather than getting great performance from your people, this management skills training program will help you get the skills you need. Improve your time management and organizational skills. Improve your delegation skills - know what and when to delegate and how to delegate effectively. Discover techniques to motivate your people and to resolve performance issues before they become problems!
Communication and conflict management skills training
Communicating in Difficult Situations - Conflict resolution, negotiation and communication skills for dealing with difficult people and difficult situations. If your organization wants to improve customer retention and satisfaction rates, make internal communication more effective, or arm its sales staff with better tools to close more contracts with your prospects and existing customers, this program will improve inter-personal communication skills and increase effectiveness at finding common ground and resolving differences.
Employee Relations and Change Management
Team Building and Stress Management - Turn any team into a high-performing, happy, cooperative dynamo. This team building and team communication program is perfect if there are conflicts on your team, if you have recently lost or hired team members, if you have great individuals on your team but their teamwork could use improvement, or when you just want some extra team building and bonding for your team members!
Take Charge Of Change - This program is perfect for organizations and corporations that are going through change such as downsizing, mergers or acquisitions. If the people in your organization are reacting with resistance to change, coffee room gossip, decreased performance, declining communication, or increased stress, this change management training teaches how to stay positively motivated and focused, and how to find opportunities for individual and organizational improvement in the middle of tough or changing times.
Sales and Customer Retention Skills Training
Seven Steps To Exceptional Customer Loyalty - How to tap into new and existing customer relationships to increase profits and get a stronger foothold in a competitive marketplace. This sales and customer retention training program helps businesses set up better marketing and after-sale systems that increase customer retention, purchase frequency, and referrals from existing customers.

Success Stories:
Garry W. Greene, Director, In-Store Banking, Bank of Montreal:
"It was indeed a pleasure to meet someone with your talent and positive outlook on life. I think the participants found your presentation to be uplifting and one of the highlights of our two day event. In particular, I would like to thank you for the time you spent researching and the customized additions."