Management training for managers and supervisors
PRESENTATIONS
Motivational Keynotes
Humor Presentations
Coaching Skills
Management Skills
Team Building
Conflict Resolution
Change Management
Customer Loyalty
FREQUENT QUESTIONS
Presentation pricing
100% Guarantee
Testimonials
Presentation booking
ABOUT US
About Pavla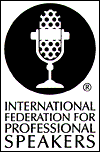 "How to Manage and Lead People"
If you feel like you are herding cats rather than getting great performance from your people, this management skills training program will help you get the skills you need. Improve your time management and organizational skills. Improve your delegation skills - know what and when to delegate and how to delegate effectively. Discover techniques to motivate your people and to resolve performance issues before they become problems!

Success Stories:
Garry W. Greene, Director, In-Store Banking, Bank of Montreal:
"It was indeed a pleasure to meet someone with your talent and positive outlook on life. I think the participants found your presentation to be uplifting and one of the highlights of our two day event. In particular, I would like to thank you for the time you spent researching and the customized additions."